My first (and may I say, already the best) international trip happened last month (May 2017). Me, my boyfriend and his mother went to Europe, more specifically Portugal, France, and Italy. We spent a total of nineteen days getting on and off airplanes, trains, and hotels (but yes, it was totally worth it!).
We started the planning only five months prior to our departure (mistake 'numero uno') and bought the plane tickets three months after it (mistake number two).
Deciding which cities to visit was the hardest part. The only sure thing was Porto, and only because my boyfriend had a college presentation to do. At first, we were considering Barcelona, London, Paris, Venice, La Spezia, Cinque Terre, Firenze, and Rome and yes, I know what you're thinking: What the hell were we thinking? In our defense, it is really expensive to do this sort of trips, especially when Brasil's coin isn't valued so, naturally, we wanted to go to as many places as we could, I mean, who knows when will we have an opportunity like this again? At the end, we "only" went to Porto, Paris and a few too many cities in Italy (and that is how we avoided mistake number three!).
After finally deciding the main destination, we were able to buy the plane tickets: Porto, Paris, and Venice. At first, we had decided to do "Italy by car" (and there we go, mistake number three was already right around the corner…) so we booked a lot of different hotels, that way we could rest before driving all night. Little did we know that people under 25 have to pay a fee of 20 euros per day. Also, we couldn't get an automatic vehicle. And that is how "Italy by train" started! However, we had already booked the hotels (and yes, non-refundable), so we were stuck if them. And here is tip number one: If you are going to stay in a small city, book a hotel close to the train station, that way you save taxi money and don't need to walk miles and miles if your plans are to go to a neighboring city.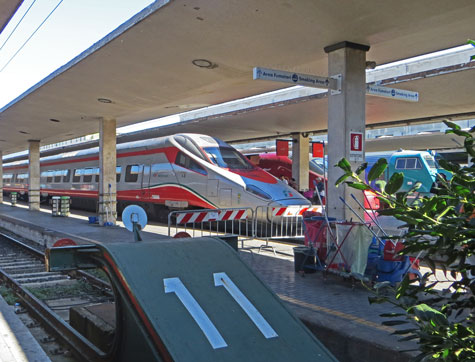 Because of that mistake, we had to get too many trains with our bags (and we had too many of them) and getting them up and down the train was not an easy task. For instance, we went do Firenze so, in an ideal world we would get a hotel there and go by train to the small cities nearby. At total, we stayed in nine different hotels, we could have definitely minimized that to six. I know you're curious to know which cities in Italy we went, but don't worry, I will tell all about them in a bit.
Ohh, here goes tip number two: try not to take too many bags with you. I know it's not easy, even more, if you're a girl and has to pack different shoe options, makeup, curling iron and who knows what else. We suffered a lot (my boyfriend can tell you all about that) because of the trains and because most of the hotels we got didn't have elevators (and we were lucky enough to only get the rooms on the top floors).
Moving on, the next thing we did was decide which touristic points we would go, it seems like an easy job, but it is so not. We fell in love with every single place we found and to narrow it down was the worst. We went through tons of blogs before deciding and every day until we were sitting on the plane we were still finding new and exciting places to go. When you go to as many places that we went during a small period of time, planning is everything, knowing which church is close to which museum is pivotal. So that is what we did, I draw maps and more maps as we were trying to figure out what to do first.
The question is: Did we do everything we planned to? Unfortunately no. We tried to plan everything in a way that we would have time to really see and enjoy every single painting, sculpture, food and whatever else came our way. But, what we did count on was how tired we were. I can firmly say that I knew I'd have to walk, but I did not imagine it would be that much!
Paris, the place we had the most to see and enjoy, we couldn't. Mostly because walking around Porto is not easy, first there are too many ascents, second we had just gotten out of a 24 hour journey by plane and third, we got lost. And I don't mean we got lost once, we got lost, I don't know, 10 times? Maybe even more (yes, we suck at reading maps), so we ended up getting the longest roads and we went back and forth plenty of times.
Well, despite all the mistakes we made, it was an amazing trip. We did pretty much everything we planned, ate the best pizza, pasta and ice cream of our lives, saw the most incredible paintings, sculptures and architecture, got to learn a bit more of the culture and the language and so much more. It was definitely an enriching experience, it was incredible to be a part of such historical places, I mean, we saw were the queens and king slept, the ruins of an ancient Rome and the place where civilization as we know started. Here, in Brazil, we are so far away from it that was hard to believe my eyes. Even now, seeing the pictures and the souvenirs is still hard to wrap my head around everything I saw.
Ps.: You thought I would forget to mention the cities we visited in Italy?? Of course not, I wouldn't do that with you! So here they are Venice, La Spezia, Cinque Terre, Pisa, Lucca, Florence, Orvieto, Naples, Pompeii, and Rome.